Vancouver Hockey School Coaches
Vancouver Hockey School's outstanding reputation stems from its quality of instruction. Our team of professional coaches teach and coach players of all levels up to and including the NHL. It is Vancouver Hockey School's mandate to provide the highest quality of hockey instruction to all participants.
Derek Popke is the founder of Vancouver Hockey School Ltd. As a hockey skating consultant, Popke has worked on-ice with the NHL Toronto Maple Leafs (2009-2014), ECHL Victoria Salmon Kings, BCHL Penticton Vees, BCEHL Canadians and CSSHL St. Georges Saints. In 2021, and in cooperation with the Vancouver Canucks, over 20 NHL players from multiple organizations attended his pro camp. In 2009, a record 19 players who skate with Popke were drafted in the WHL Bantam Draft. As one of the lower mainland's most respected skating coaches, over 50 of Popke's clients have been selected in the NHL draft in the past 7 years. Popke spent 10 seasons with Seafair Minor Hockey as Director of Player Development (2007-2017). Under his guidance the association grew from 350 to over 850 members. He is currently the Hockey Advisor to the  Vancouver Thunderbirds. Most recently, Popke was a key note speaker on hockey skating at The Coaches Site Coaching Conference featuring top coaches from around the world.
Stan Sibert is recognized as one of the top skills providers in the lower mainland. He spent two seasons as Head Coach for the CSSHL Bantam Varsity St Georges Saints (2018/2019). Coach Sibert captured the CSSHL League Championship with the Saints in their inaugural season (2017/2018). He joined the Saints program after a successful season as head coach of the CSSHL International Hockey Academy (2016/2017) in Calgary AB. A former professional player, Sibert is well known for his skill development of elite players focusing on advanced European methods he acquired while coaching in his native Slovakia. In addition, Coach Sibert holds a masters degree in physical education focusing on hockey coaching. Upon his arrival to Canada, he coached North Shore Winter Club's Elite Midget Program and the BCEHL Northeast Chiefs. Coach Sibert is under contract to both South Delta Minor Hockey and Vancouver Thunderbirds Minor Hockey in Skill Development and Coach Mentorship roles.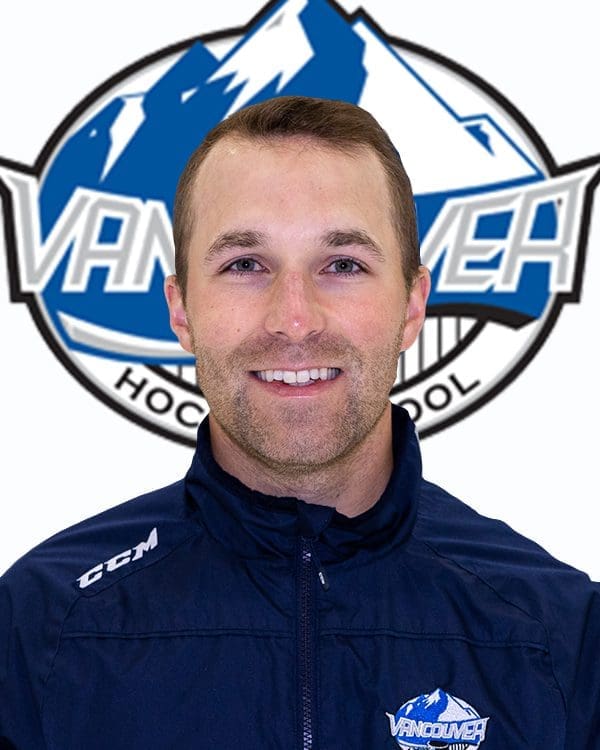 Carter Popoff is entering his 2nd season of professional hockey after a successful rookie season (2021-2022) playing for Neuilly-sur-Marne (France Div 1). He spent 4 years with the University of British Columbia Men's Hockey Team (2016-2021). Popoff played a key role as the UBC Thunderbirds advanced to the USports National Championships in the 2019/2020 season. He joined the Thunderbirds after 4 seasons (2012-2016) with the WHL Vancouver Giants. Playing for legendary coach Don Hay, he was named Assistant Captain of the Giants for the 2015/2016 season. He recorded 64 points in 72 games centering the Giants top line. Popoff played 1 season (2010/2011) for the BCEHL Greater Vancouver Canadians. A graduate of Richmond Minor Hockey, this will mark Popoff's 7th season as a member of the VHS coaching staff.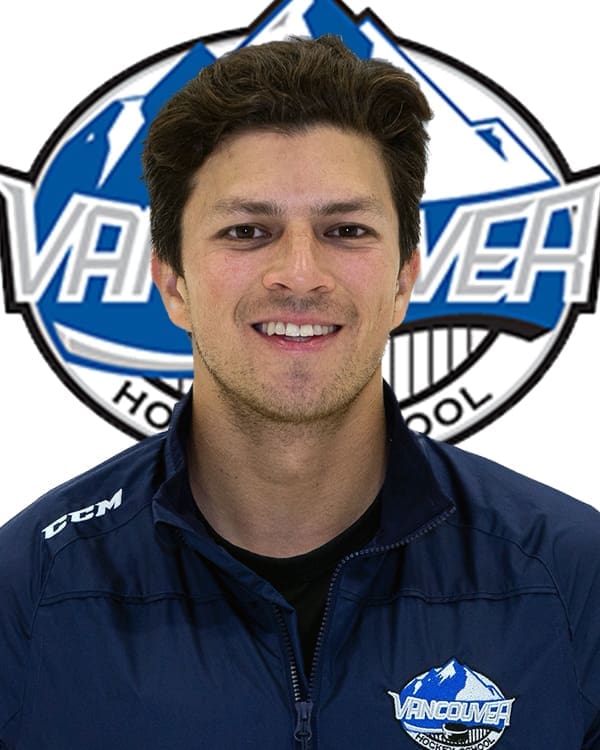 Brandon Campos is entering his 7th season with Vancouver Hockey School. A former professional hockey player, Campos completed 4 years in the WHL suiting up for the Everett Silvertips and Chilliwack Bruins. An offensive forward, Campos recorded a team lead 70 points in the 2007-2008 season with the Chilliwack Bruins. He went on the play 3 seasons in the CIS for the University of British Columbia (2008-2011). Campos played 2 seasons (2011-2013) of professional hockey in France. He currently the team sales rep for CCM Hockey. His duties include the NHL Vancouver Canucks, Seattle Kraken, and WHL teams within the province. An enthusiastic skills coach, Campos leads in-season skills programs and speciality camps. He is also a key contributor the BC Kodiaks spring program.
Matthew Brown is the former captain of the PIJHL Richmond Sockeyes (2017/2018). A rugged defensemen, Coach Brown patrolled the blueline for the SFU Mens Hockey Team (2019/2022).  A graduate of the BCEHL Vancouver Canadians Major Midget program, he also honed his game with the BCHL Junior "A" Surrey Eagles (2018/2019) before starting his University career. Matthew is currently under contract with the Vancouver Thunderbirds in a skill development role (2021-2023) while completing his criminology degree at SFU. In addition, he is a key contributor to the BC Kodiaks spring program where he oversees the female program. A very popular instructor with students of all ages, this will mark Coach Matt's 5th year at Vancouver Hockey School.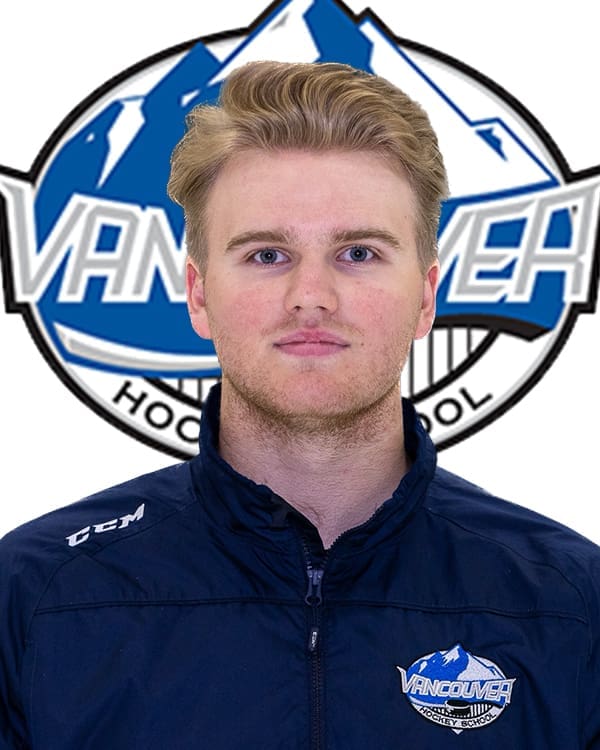 Matthew Stewart is entering his 5th summer coaching with the Vancouver Hockey School. A draft pick of the WHL Vancouver Giants, he is currently the captain of the PIJHL Richmond Sockeyes (2023/20204). Known for his leadership and coaching abilities, Matt has expanded his role as one of the lead instructors at VHS spring and summer camps. Matt continues to be popular with all camp attendees with his positive attitude and energy. He is also a key contributor the BC Kodiaks spring program.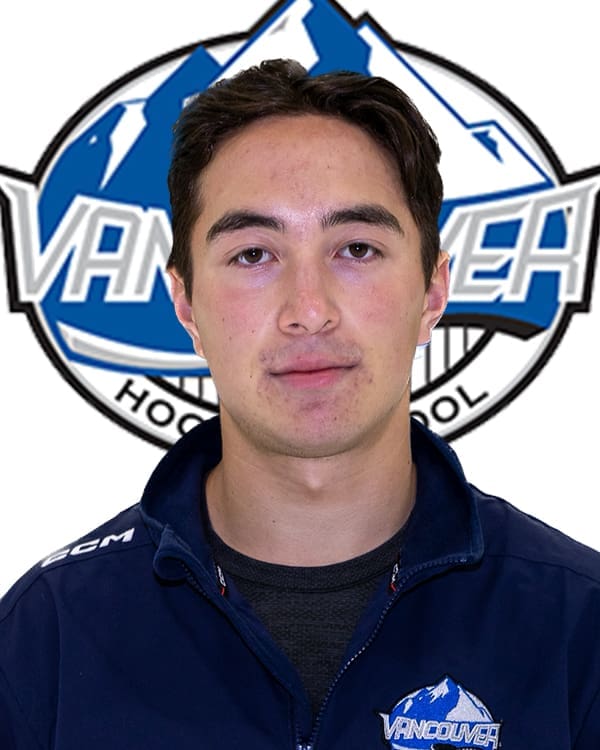 Tom Sweeney is the former captain of the PIJHL Richmond Sockeyes (2019-2020). A graduate of the prestigious Burnaby Winter Club Hockey Academy (CSSHL), Coach Sweeney played Junior A hockey in the BCHL and SJHL for the Prince George Spruce Kings and Estevan Bruins respectively. A fluid skater with leadership skills., he is currently playing hockey for the University of Victoria while completing his post secondary studies. This will mark Coach Sweeney's 4th season with the Vancouver Hockey School. 
Teo Lin is entering his 4th season with the Vancouver Hockey School. He spent his minor hockey career with the Seafair Islanders before moving up to play for the PIJHL Richmond Sockeyes (2023-2024). Teo also played with the BCHL Junior A Surrey Eagles (2022-2023). In addition to the Sockeyes and Eagles, he attended the WHL Vancouver Giants training camp in 2023. A former student of the Vancouver Hockey School, Teo is currently focusing on his post secondary studies while rounding out his junior hockey career.